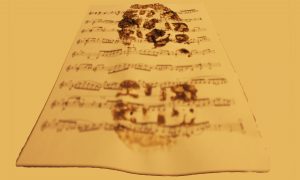 Poate că azi ar putea părea surprinzător pentru multă lume, însă, la origine, maneaua este un gen muzical cult. Era o muzică instrumentală interpretată la curtea sultanului și pe la alte curți domnești în vremea Imperiului Otoman. Printre cei care au compus și au cules cântece otomane ce pot fi asemuite manelei culte a fost și Dimitrie Cantemir (Kantemiroğlu –"Fiul lui Cantemir", în traducere turcească – link audio ). În Țările Române, această muzică și-a făcut apariția în perioada 1711-1716, odată cu sosirea domnitorilor fanarioți, care, pe lângă alaiul lor de creditori, boieri otomani și rude, și-au adus și muzicanți turci – deși cuvântul manea, atribuit acestei muzici, apare abia după anii 1800.
La scurt timp, muzica a fost preluată și interpretată și pe la curțile boierilor români, nu neapărat de melomani ce erau, cât mai degrabă pentru a imita și a afișa un anume stil de viață. Ascultarea acestei muzici era un privilegiu aristocratic, al elitelor (politice), la care masele nu aveau acces. Simbolic, reprezenta și o delimitare de cetățenii obișnuiți. Această translație, de la Instanbul în Țările Române, a însemnat și o (primă) simplificare a stilului. Se poate face o paralelă cu asimilarea culturii franceze de mai târziu: deși se puteau remarca o serie de similitudini, nu era chiar ca originalul – la noi era mai cu furculision.
Acestea fiind zise, din start am demontat unele mituri care circulă în prezent cu privire la acest gen muzical: că maneaua a apărut după 1990, că ar fi o muzică ţigănească sau că și-ar avea rădăcinile în muzica lăutărească. Că ulterior a împrumutat elemente și din muzica lăutărească, fără îndoială, da' din ce n-a împrumutat? Influențele orientale, balcanice, grecești, sârbești aproape că nici nu mai are rost să le precizăm, însă acestea s-au amestecat cu stiluri din mainstreamul american – Pop, Dance, Hip Hop etc. – și din orice alt stil care a fost suficient de la vedere pentru mâna lungă a celor care produc acest gen de muzică. Nici muzica clasică, în special Mozart, n-a scăpat de ocupația cotropitorilor. La cât de mult se fură, și din cât de multe surse, e greu să mai dai de urma muzicii (sau a banilor). Avem, așadar, kitsch-ul suprem. Ghiveciul prin excelență. În prezent, muzica sună cam la fel cum se prezintă vestimentația celor care o ascultă: pantofi cu trening Adidas, șapcă, eșarfă, cămașă descheiată până la buric, lanț la vedere, brățară lângă ceas, ochelari de soare pe frunte – toate astea asortate la o pungă de semințe.
Revenind… Vorbeam de o primă simplificare prin aducerea manelelor în Țările Române și interpretarea lor pe la curțile boierilor români, însă acestea au continuat să rămână o muzică instrumentală și apanajul celor cu o anumită stare și poziție socială, oarecum ferită de omul de rând. Cea de-a doua modificare, și hotărâtoare pentru felul în care se prezintă în momentul de față – pe lângă o mică schimbare a ritmului -, a fost adăugarea versurilor peste aceste variante instrumentale.
Cel mai important versificator al vremii a fost Anton Pann (da, cel care a compus imnul național – suntem, așadar, într-un fel, ombilical legați de acest stil muzical). O parte dintre versurile scrise de acesta pentru manele erau de inspirație folclorică, unele simpliste, cu destule onomatopee (pentru care a și fost criticat de unii intelectuali), de tipul "of, of, of", "hop, hop, hop și țop, țop, țop", "dorule, dorule" (hi, hi, hi și ha, ha, ha), însă au fost și versuri mai complexe, cu o anumită valoare poetică.
Combinația de versuri accesibile și de ritm dansant, simplu și repetitiv, a fost dragoste la prima vedere pentru mahala. Au preluat instant stilul muzical. Inițial au preluat manelele așa cum erau (cu o interpretare precară a lăutarilor de pe la periferii), iar cuvintele pe care nu le înțelegeau, sau nu le cunoșteau, le stâlceau sau inventau altele noi. (Asta îmi aduce aminte de anii '90, când hiturile în limba engleză pătrundeau și în țara noastră, într-o societate care nu avusese vreo tangență cu limba engleză. Astfel, puteai auzi fredonându-se destul de frecvent refrene ca "O, meanciu bos – însemnând All that she wants, de la Ace of Base", "Carnagio – Cotton Eye Joe, Rednex" și, tot aici, chiar dacă nu e de sorginte românească, pentru a înțelege mai bine fenomenul, nu se poate să nu amintim de clasicul "Son Reebok or son Nike? – Rhythm of the Night, Corona – link audio .) La scurt timp după ce s-a lăsat fermecată de acest stil muzical, mahalaua nu s-a mulțumit doar să  interpreteze cântecele oficiale, ci a început să-şi spună propriile povești (cu temele, probleme și interesele periferiei) pe noile ritmuri, însă educația mai mult decât aproximativă avea să se vadă în precaritatea limbajului și în exprimarea dezastruoasă.
Cam așa suna o manea pe la 1850, compusă de Anton Pann: Când eram mai tinerică – link audio. Interpretarea sopranei ne poate duce cu gândul la alt gen de muzică, însă ritmul, pe care toți îl cunoaștem și îl îndrăgim, este destul de limpede cărui stil aparține. (Sau nu? Sau nu îl îndrăgim cu toții?) Același ritm s-a păstrat până azi, însă, de obicei, acum manele au un tempo mai rapid pentru ca bomba bombelor să poată da mai eficient din motoare. Este ceva foarte special în legătură cu acest ritm, ceva mistic. A reușit încă din primul moment să farmece mahalaua și, iată că, după aproape 200 de ani, nu şi-a pierdut deloc din vigoare, dimpotrivă – mahalaua pare din ce în ce mai surprinsă de el, manifestând un interes mai ridicat decât oricând. E ceva în acest ritm care se adresează direct esenței umane: nealterate de vreo carte, articol de ziar, săpun, politețuri de fațadă sau manierisme desuete.
Pentru a continua arcul peste timp avem de acoperit o porțiune importantă, și anume perioada regimului comunist. Fenomenul manelelor luase amploare, astfel că în perioada interbelică (şi chiar înainte) începuseră să se închege chefurile (apropiate de cum sunt astăzi), să curgă băutura, domnișoarele și doamnele să se rupă în figuri prin dansuri lascive din buric, junii și bărbații să etaleze o bravadă prostească, însă odată cu instalarea comunismului nu prea s-a mai auzit nici pâs. Nu se știe exact de ce și unde au dispărut manelele în această perioadă. Ai zice că odată ajunsă la putere, mahalaua își va ridica și muzica preferată pe noi culmi. Cel mai probabil, liderii regimului au sesizat capacitatea acestui curent muzical de-a aduce grupuri mari de oameni laolaltă, iar acest lucru era de evitat – că poate le vin idei. Știm bine că în perioada comunistă evenimentele care implicau grupuri mari de oameni erau strict supravegheate, iar spontaneitatea lor intens repetată. Așa că, cel mai probabil, manelele au fost cenzurate.
Muzica lăutărească a fost tolerată, maneaua cenzurată: poate de aici și o oarecare simpatie cu care manelele au fost întâmpinate, când şi-au refăcut apariția după 1990, de unii dintre cei care mai aveau vagi amintiri despre existența lor. Aceștia au privit manelele ca pe un curent underground de care regimul se temea, care, dacă n-a fost pe placul regimului, însemna că această cenzură s-ar fi datorat faptului că s-ar fi opus (în vreun fel) regimului.
Ajungem și în prezent – 2017. S-au scurs aproape 30 de ani de când manelele au revenit în atenția societății românești și, în pofida a numeroase încercări de discreditare, marginalizare sau chiar de interzicere a lor din partea unor reprezentanți ai elitei intelectuale și a oficialităților, au fost și au rămas principalul gen muzical consumat de către publicul larg, fără să-şi piardă vreo clipă din anvergura dobândită. Este evident că nu-i vorba de o modă sezonieră, cum mulți sperau, care să treacă de la sine.
Poate fi tentant să încerci să blamezi stilul pentru starea actuală, însă nu stilul, în sine, poartă vina. Nu scrie nicăieri în prospectul stilului că-i musai să folosești creier puțin și prost-gust pentru a-l produce. Ar fi interesant dacă muzicieni și textieri talentați ar relua manelele de la 1850, în stadiul în care le-a lăsat Anton Pann (Leliță Săftiţă – link audio, Până când nu te iubeam – link audio, Nu mai poci de ostenit – link audio), și le-ar dezvolta într-o cu totul altă direcție decât cea pe care au apucat-o. Deși, pentru început, n-ar fi prea onorant să fie colegi cu tot felul de minuni și vijelii, cred că, în cele din urmă, publicul ar sesiza diferența. S-ar putea ca aceasta să fie singura soluție de a mai tempera din adeziunea societății românești la conținutul reprobabil actual: dându-i manele de calitate.
Şi cam acesta a fost anevoiosul traseu al manelei, din palat în cocină, cu aproape zero șanse de-a mai reveni la statutul inițial.