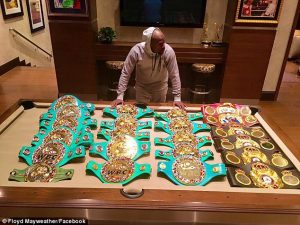 Acum că și-a încheiat cariera, se poate spune, fără teama de-a greși, că Floyd Mayweather Jr. este cel mai mare boxer al generației sale și unul dintre cei mai mari din istorie, însă, chiar și cu senzaționalul său palmares, o bună parte dintre cei care se uită mai rar (sau aproape deloc) la box și i-au văzut vreo luptă nu l-au perceput ca fiind cine știe ce sportiv, n-au văzut nimic special. Mulți dintre fanii vechi încearcă să-i alunge sau să-i descurajeze pe cei noi care se alătură fenomenului – nu stau să le explice lucruri de bază, darămite finețuri -, în special când adeziunea celor din urmă survine în urma expunerii mai accentuate a vreunui eveniment, fiind de părere că astfel de ralieri meteorice strică sportul. Dar eu cred că fanii ocazionali sunt utili deoarece ajută la popularizarea sporturilor și a sportivilor în general; plus că o parte dintre ei vor deveni cunoscători – fiecare trebuie să fie novice la un moment dat, nu? Foarte multe sporturi se susțin prin faptul că publicul larg mai aruncă din când în când o geană asupra lor, fără să devină prea implicat. E o chestiune de politețe, de simțit cu musca pe căciulă, ca atunci când nu ești încă familiarizat cu un sport să nu te bați prea mult cu pumnii în piept în a-i contrazice pe alții și a nu pune prea mare preț pe părerile tale.
Trebuie spus de la început că stilul lui Mayweather nu este nici pe gustul unora dintre fanii vechi și înrăiți ai boxului, care înțeleg destul de clar ce face el în ring, nici lor nu li se pare suficient de entertaining (deci nu e vreo unanimitate nici din acest punct de vedere), însă mulți dintre cei care nu-s familiarizați cu acest sport nu-s impresionați de Mayweather deoarece nu înțeleg ce face el mai exact în ringul de box. Stilul lui nici nu e ușor de înțeles și de urmărit, e greu de observat și, în principiu, e nevoie ceva ani și multe meciuri vizionate pentru a înțelege că e extrem de dificil, aproape imposibil, ca cineva să facă ce face el. Până la urmă, ce e și ce nu e dificil? La cel mai înalt nivel, mulți începând să boxeze în jurul vârstei de 10 ani, când ajung în plină formă, campionii mondiali au în jur de 20 de ani de experiență. 20 de ani de vânat cap și corp și format reflexe în acest sens. A intra în ring cu asemenea oameni și a reuși să NU te bați e cel mai dificil lucru pe care îl poți realiza. E mai ușor să-i faci KO. Foarte mulți dintre marii campioni au fost făcuți KO, însă de evitat bătaia cu ei nu prea reușește nimeni. Repet – dacă intri în ring cu un campion mondial, e mult mai greu să reușești să nu te bați decât să-l faci KO.
Despre strategie și adaptarea ei la calitățile disponibile
În majoritatea competițiilor sportive există două abordări prin care sportivul (echipa) încearcă să se impună: tehnică sau forță. Toți sportivii de top le au pe ambele, fiecare definindu-se printr-o combinație între cele două, însă una dintre cele două primează în modalitatea acestora de-a se impune. Există și în box aceste două abordări. De obicei, a boxa este denumirea folosită pentru tehnică și a te bate, pentru forță (to box or to fight – cum le zic americanii). Mayweather întotdeauna s-a bazat pe tehnică, și a fost atât de tehnic pe lângă oricine altcineva din generația sa (în special în a doua jumătate a carierei sale) încât nici măcar nu se punea problema ca cineva să spere că poate intra în ring şi să-l învingă fiind mai tehnic decât el. "You cannot outbox Mayweather" era deja o axiomă. Cei care au încercat abordarea tehnică, și ei campioni extrem de tehnici la rândul lor, au eșuat sigur şi lamentabil. Așa că a mai rămas abordarea în forță. Se spera că la un moment dat, va intra vreo lovitură, vreo combinație (mai mult sau mai puțin venită de nicăieri), care să-l surprindă şi să-l învingă prin KO. Well… în 50 de meciuri şi 21 de ani de box profesionist (la vârstă de 19 ani şi-a făcut debutul în boxul profesionist) n-a venit această lovitură.
Sunt cu atât mai meritorii rezultatele lui Mayweather, cu cât are (cel puțin) două dezavantaje considerabile peste care a trebuit să treacă, să-şi adapteze stilul în funcție de ele. Unul dintre acestea ar fi că nu poate lovi puternic. Este cunoscut mai degrabă ca având o forță medie a loviturii, obișnuită – care nu te recomandă să devii unul dintre cei mai buni boxeri din istorie. Forța loviturii are o considerabilă componentă genetică: oricât te-ai antrena, de la un punct încolo nu-ți mai poți crește forța de lovire. Dacă o ai, avantajul e că trebuie să muncești mai puțin, îți poți scoate adversarul din ring cu mai puține lovituri şi-i poți altera mult mai ușor prestația. Al doilea dezavantaj al său (acesta este mai rar) sunt mâinile destul de fragile, la care se accidentează ușor. Așa că a brevetat un stil excepțional: "Nu încasez nimic, lovesc pe contră, clar, în plin, 3-4-5 lovituri – câștig runda. În acest mod câștig fără dubiu vreo 7-8 runde, în vreo două m-asigur că nu se întâmplă nimic (pot să le dea arbitrii oricui), dau vreo două runde adversarului (de obicei primele două sau cele din prima jumătate a meciului, cedate în mod deliberat pentru a-şi studia adversarul), câștig meciul". Poate nu e neapărat cel mai spectaculos stil pentru cei care se uită ocazional la box, sau pentru cei care vor să vadă mai multă acțiune, însă e, de departe, cel mai dificil plan de pus în practică. Nimeni din generația sa (şi nu numai) nu-l mai poate duce la îndeplinire (poate le reușește un meci sau două, însă nu o perioadă îndelungată).
Foarte des se vorbește despre defensiva sa (şi pe bună dreptate, probabil cea mai bună din istorie) şi mai puțin despre abilitățile ofensive, care, la rândul lor, sunt de domeniul fantasticului: aproape 50% dintre loviturile expediate de el lovesc ținta, asta în condițiile în care procentul la ceilalți multipli campioni mondiali, nu amatori!, este de 25-30%, iar când intră în ring cu Mayweather procentul lor scade sub 20%. Din punct de vedere al preciziei, e ca un chirurg printre măcelari. Uneori, ușurința cu care își lovește adversarii produce frustrări în rândul privitorilor, că nu accelerează mai mult, că nu-i termină, așa cum alți boxeri ar face, ci alege să tempereze lupta, însă asta face parte din filosofia sa, din stilul său – conservator, extrem de calculat, care prevede limitarea la maximum a riscurilor (de accidentări, contre etc.) – şi nici nu găsește o plăcere deosebită în a pune în pericol integritatea corporală a adversarilor, ba chiar îi protejează în unele cazuri. Mayweather câștigă meciuri deoarece câștigă runde, nu aleargă după KO-uri, așa că nu-i o mare realizare să reziști un meci întreg cu el (să-l anunțe cineva şi pe amatorul celebru cu care s-a luptat în ultimul meci, care după ce-a eșuat să-l termine în două runde, găsește măreție în faptul că a rezistat aproape un meci).
"Fuga" lui Mayweather
Cel mai întâlnit reproș care i se aduce de către detractorii săi este faptul că fuge, nu se bate. "Să stea, dom'le, acolo dacă-i bun, de ce fuge?" e obiecția ignorantului. E ca şi cum i-ai cere unui fotbalist: "Hai să stăm aici la tine în careu şi să ne dăm la gioale, de ce fugi cu mingea-n tușă?" Cum să-i pretinzi să nu se miște şi să renunțe la o serie de arme de care dispune? E ca şi cum i-ai cere lui Messi să câștige Balonul de Aur, da' să n-alerge prea tare, să nu dribleze şi să nu șuteze cu piciorul stâng. Astfel de solicitări absurde, care prevăd ca un atlet de înaltă performanță să se transforme din profesionist în circar ("ia să vedem dacă poți şi c-o singură mână!"), nu pot veni decât din partea unui public care n-are nicio tangență cu sportul respectiv şi nici cu ideea de întrecere sportivă în general.
Cu atât mai mult cu cât încremenirea în ghete nu e deloc spectaculoasă. A te poticni în centrul ringului, cap în cap, şi a da din ambele brațe ca un înotător disperat să ajungă la mal, asta e cea mai rudimentară formă de box. Boxeri fără talent care-şi împart pumni poate fi ceva spectaculos, însă până la un punct. (Cei care caută violență în box, cred că ar avea o mai mare satisfacție dacă ar căuta bar fights, sau ceva de genul ăsta, pe Google.) Depinde ce-ți dorești de la un sport. Te poți uită la un meci de fotbal echilibrat din liga a 4-a, care se termină 5-4, cu răsturnări de situație, şi să ți se pară spectaculos, însă este un spectacol al mediocrității, sau te poți uita cum FC Barcelona învinge lejer cu 2-0, care, la o primă vedere, nu pare un meci așa de palpitant, așa de entertaining, pentru că adversarii nu se întâlnesc cu mingea, sau poți admira înalta clasă a jucătorilor de la Barcelona care fac acest lucru posibil şi înțelegi că ăsta nu-i un lucru obișnuit, că nu-i vina lor că nu-i un meci mai competitiv şi că nu-i normal să le ceri să renunțe la unele abilități ca să facă tot posibilul să ia bătaie.
Am făcut aceste precizări pentru a arăta că şi dacă ar fugi n-ar fi o problemă, atâta timp cât sunt respectate regulile întrecerii sportive, însă, în realitate, Mayweather nu fuge. De cele mai multe ori fuga lui Mayweather constă într-un pas, cel mult doi, în lateral sau în spate. Lăsând la o parte situațiile extrem de dese când inițiază atacul, criticii par să nu remarce faptul că supărător de multe ori fuga lui Mayweather constă în statul pe loc, în centrul sau pe corzile ringului, şi evitarea atacurilor prin mișcări de trunchi, cap şi umeri, iar după atacuri prelungite în care nu le intră nimic, adversarii sunt cei care fac pasul înapoi. Este adevărat că are şi o foarte bună deplasare în ring, la care apelează mai mult sau mai puțin, în funcţie de adversar, însă nu asta îl pune la adăpost de lovituri. Principalele sale atuuri defensive sunt capacitatea de a-şi citi extrem de rapid adversarul, şi de a se adapta la ce acesta poate să facă, şi reflexele aproape inumane. E un fel de Neo în Matrix.
Episodul Pacquiao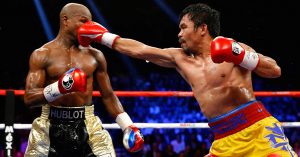 Mai întâi, vreau să precizez că în majoritatea meciurilor lui Mayweather pe care le-am văzut live, şi i le-am văzut pe toate din 2008 încoace, mi-am dorit ca el să piardă. Nu s-ar zice după ce-am scris mai sus, nu? De asemenea, menționez că sunt fan Pacquiao, așadar în acest meci îmi doream în mod arzător ca Mayweather să piardă. Consider că meciul ar fi trebuit să aibă loc în 2008-2009, iar data la care s-a desfășurat le-a alterat amândurora performanța, însă l-a afectat mai mult pe Pacquiao pentru că are un stil care se degradează mai ușor odată ce se apropie vârsta retragerii. Chiar şi așa, după ce s-a întâmplat în acest meci, nu cred că Pacquiao ar fi avut nici atunci vreo șansă. Prins în febra evenimentului şi cu un favorit clar, atunci mi s-a părut un meci mai echilibrat decât îl văzuseră arbitrii şi mulți alți specialiști ai boxului. Însă după ce am revăzut meciul de mai multe ori, mai detașat şi la intervale diferite de timp, am consultat şi statisticile, mi-am reconsiderat opinia. Mayweather a fost net superior.
Pacquiao este un boxer extraordinar, însă la categoriile mai mici de greutate. Probabil că încă s-ar impune la aceste categorii, de unde a şi plecat inițial, dar ascensiunea asta a lui, cu titluri la categorii din ce în ce mai mari, de la un punct încolo s-a făcut puțin cam artificial, punându-i-se în față adversari mari, lenți şi cu o slabă defensivă – aceștia bazându-se mai mult pe atac, la fel ca Pacquiao, însă Pacquiao are câștig de cauză în fața lor deoarece este mult mai rapid şi are o excepțională deplasare în ring. Când adversarii de la categorii superioare erau cât de cât tehnici şi aveau o defensivă bună fie erau evitați, fie erau puși să scadă mult în greutate pentru meciurile cu el, iar pierderea kilogramelor le-a afectat vizibil prestația – se pare că în cazul acestora nu mai era interesat de câștigatul centurilor la categorii superioare. În strategia lui de promovare s-a folosit din plin mitul lui David şi Goliat. Tuturor ne place să-l vedem pe ăla mic că-l bate pe cel mare, am crescut cu astfel de istorisiri, iar promotorii lui ne-au vândut în mod eficient această poveste. Menționez problema categoriei pentru că din start intră în ring cu un dezavantaj: Mayweather este mai mare decât el. De asemenea, stilul lui Mayweather nu-l avantajează (nu de puține ori a avut probleme cu boxerii tehnici), însă erau prea mulți bani în joc şi prea multă expunere ca să nu riște o înfrângere.
Bineînțeles, după încheierea meciului, dorindu-şi să-l vadă pierzând, ca de obicei, publicul larg a sărit să-l critice pe Mayweather că nu e în stare să încaseze şi el niște lovituri, le tot evită ca un fricos. Nu înțeleg de ce nu l-au criticat pe Pacquiao că nu știe să atace. Întrebarea care se punea era cât valorează ofensiva lui Pacquiao în fața cuiva care știe să se apere. Ofensiva oricărui amator arată excelent în fața unui sac de box. Problema e atunci când sacul se mișcă şi chiar îndrăznește să te lovească şi el. S-a dovedit că nu valorează prea mult, iar eficiența lui Pacquiao tinde către zero când e pus în fața unui maestru al defensivei – lucru care era oarecum de așteptat, ținând cont de scăderea eficienței sale în aproape toate confruntările pe care le-a avut cu boxeri care știu şi altceva în afară de ofensivă. În meciurile în care Pacquiao întâlnea adversari mari şi convenabili pentru stilul său, arunca şi peste 1200 de pumni pe meci, cu Floyd a lansat de departe cele mai puține lovituri: ceva peste 400. Şi nu doar lui i s-a întâmplat acest lucru, toţi par să aibă mult mai puțină activitate atunci când intră în ring cu Mayweather. De ce?
Boxerii mai puțin tehnici şi cu o apărare slabă, cum i s-au pus destui lui Pacquiao în față, când sunt atacați de cineva rapid, se închid în defensivă şi aproape că înghit şi cheia. Stau şi câte 10 secunde cu brațele ridicate pentru blocaj fără să schițeze nimic, lăsându-şi adversarul să-şi termine nestingherit atacul până să preia ei ofensiva. Mayweather nu e niciodată complet în defensivă, mereu ține un ochi deschis şi nu se panichează când e atacat. De obicei, te întrerupe în mijlocul atacului. Ratezi prima lovitură, trebuie să te aștepți la contră şi, spre deosebire de tine, lui îi intră în plin (e ca la anchetă – tot ce spui poate şi va fi folosit împotriva ta). Dacă te întinzi la o combinație de două lovituri, mai mult ca sigur n-o mai prinzi pe-a treia, pentru că te așteaptă o mare directă, sau un pas în lateral şi te lasă să lovești aerul. Ăsta-i motivul pentru care lumea nu e așa de activă şi aruncă mult mai puțini pumni spre Floyd decât o face atunci când se confruntă cu altcineva. Aceste contre foarte precise te fac să reconsideri pălăitul. Pacquiao e recunoscut pentru combinațiile lui cu multe lovituri, de 5, 6 sau chiar 7 lovituri consecutive, însă acestea merg doar cu cei care se baricadează total în defensivă (cu sacii de box). Cu Mayweather combinațiile prelungite nu-s posibile oricât de rapid ai fi – după cum s-a văzut şi în acest meci. Vei fi întrerupt dinainte să prinzi avânt.
Din nefericire, după meci a preluat şi Pacquiao discursul ignoranților: "a fugit", "e fricos", însă n-a îndrăznit s-o facă de prima dată. Prima scuză a fost că era accidentat, dar văzând că sunt mulți "lălăitori" pe margine care pun refrenul cu fuga, a sărit şi el în mod josnic în această barcă. Până una-alta, conform statisticii, cât şi a ceea ce se vede foarte clar în imagini, ofensiva celui mai defensiv boxer a fost aproape de două ori mai bună decât ofensiva lui. Dacă aș fi răutăcios, l-aș întreba: "Ce-ai pățit, boss? N-a mai stat sacu' să dai în el? Totuși, văd că tu ai stat ca el să dea în tine." Intervine o chestiune de logică elementară: "Tu cum ai reușit să iei ploaia aia de pumni, dacă el doar a fugit? Cu cineva care doar fuge, scorul pumnilor dați-încasați ar trebui să fie 0-0, nu?" Încă o dată, după cum am precizat şi mai înainte, a-i cere adversarului să adopte o tactică ce te avantajează pe tine şi să renunțe la calitățile sale de bază reprezintă o modalitate nu prea inteligentă de-a pune problema într-o competiție sportivă.
Mayweather este un boxer net superior şi m-aș fi așteptat la mai mult fairplay din partea lui Pacquiao, adică s-o recunoască public, mai ales că este mai mult decât evident acest lucru pentru cine vrea să vadă. Probabil cei responsabili cu promovarea au ales strategia asta, să nege evidența, pentru a menține iluzia că, totuși, este cam la același nivel cu Mayweather, ba chiar poate ceva mai bun (pentru că el nu fuge), mai ales că mulți dintre susținători se lasă mai rapid influențați de discursuri şi pasiuni decât de realitate. Dacă n-ai văzut meciul, făcând abstracție de nume, preferințe şi alte povești, şi te uiți doar la statistici, acestea indică un meci dezechilibrat, în favoarea lui Mayweather. Partea proastă pentru Pacquiao e că dacă te uiți la meci, pare şi mai dezechilibrat. Ce nu iau în calcul aceste statistici este calitatea loviturilor. Aproape că poți numără pe degetele de la o mână loviturile de forță, directele de stânga şi croșeele, clare, în plin, care i-au intrat lui Pacquiao, care, după ce că a lovit mult mai puțin decât Floyd (aproape jumătate), a nimerit mai mult în blocaj. Pe când Mayweather, chiar dacă n-au fost extrem de puternice, şi mai mult singulare decât în combinații, a avut lovituri foarte precise, în plin, prin care i-a zdruncinat sistematic capul toată seara, aproape rundă de rundă.
Păcatul acestui tip de lovituri e că nu punctează şi la impresia artistică, așa cum o fac loviturile din combinații. Când ești în febra meciului, 5 lovituri lansate una după alta, dintre care doar una intră – restul sunt fie în blocaj, fie pe lângă -, par mai atrăgătoare şi mai dominante pentru publicul spectator decât 5 lovituri care-şi ating toate ținta, însă sunt lansate pe rând, la un interval de 10-15 secunde. Însă acest efect dispare dacă vizionezi meciul mai detașat şi/sau de mai multe ori. La fel ca alți boxeri, Pacquiao s-a agitat mult, ca un taur, fără prea multă eficiență însă, iar Mayweather l-a răpus calm şi elegant ca un toreador. Așadar, i-a făcut şi lui Pacquiao ce le-a făcut şi altor mari campioni: i-a luat 8-9 runde, i-a dat 2, iar 1-2 le-a lăsat pentru dezbatere. 10-2 sau 9-3 (runde), cam așa ar arăta scorul meciului, şi asta au văzut şi arbitrii. Just another day at the office.
Loja lui Ali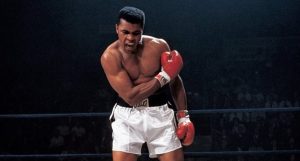 Motivul principal pentru care Floyd Mayweather nu este pe placul multora este aroganța acestuia şi faptul că aproape în fiecare discurs se include printre cei mai buni boxeri din toate timpurile (TBE – The Best Ever – este formula prescurtată, de marketing, de prezentare, adică cel mai bun, însă dacă i se aruncă în dezbatere niște nume legendare, nu se consideră neapărat mai bun ca aceștia, ci doar unul dintre ei) iar replica multora e de genul: "cum îți permiți, băi, să te compari tu cu Ali (sau alte nume legendare)?". Cu această ocazie am putea trage niște învățăminte cu privire la aroganță în general. Se pare că aroganța exagerată nu șade bine nici celui mai bun om de pe planetă în meseria lui, darămite unuia care nu a realizat nimic notabil în vreun domeniu. Dacă întrebi publicul larg, care nu e neapărat fan al boxului, dar a auzit ambele nume, care boxer a fost mai mare, Muhammad Ali sau Mayweather, probabil 99% îți vor spune, cu o răbufnire disprețuitoare, pe care o ai când cineva spune o enormitate, că Ali, deși aproape niciunul n-a văzut vreun meci de-al lui Ali.
Nu cunosc nici faptul că Ali a pierdut 5 meciuri. Cu atât mai puțin cunosc faptul că la construcția mitului lui Ali, boxerul, s-au adăugat evenimente care n-au legătură cu boxul. Unul dintre ele a fost convertirea acestuia la Islam. Altul a fost refuzul de-a se înrola în armată pentru războiul din Vietnam, invocând motive religioase, denunțând incorectitudinea războiului şi militând pentru pace, fapt pentru care i s-a luat titlul mondial, a fost condamnat la închisoare şi i s-a interzis să mai boxeze timp de 3 ani. Inițial aproape toată societatea americană era pro-război, ulterior din ce în ce mai mulți au început să denunțe intrarea în război, considerând-o ca fiind inutilă, injustă şi dezechilibrată şi totodată să remarce ce mare nedreptate i s-a făcut acestui campion. Ali nu s-a lăsat doborât de această situație, a revenit în ring după ce i-a expirat suspendarea şi şi-a recâștigat titlul mondial. Toate acestea se petreceau în văzul întregii lumi, transformându-l pe Ali într-un adevărat model, mai mult decât un sportiv de înaltă performanță – o conștiință publică, o voce. Nu există meciuri pe care le-ar fi putut câștiga în acea perioadă care să fi contribuit mai mult la imaginea sa de cel mai mare boxer decât interdicția (nedreaptă) de-a boxa, dublată de carisma sa.
Pentru un om al poporului, Mayweather are o mare problemă: n-a pierdut. De când a devenit cunoscut publicului, pare că toate i-au fost date de la bun început şi n-a trebuit să treacă prin nicio încercare ca să le obțină. În nicio poveste Făt-Frumos nu are şi fata, şi banii şi castelul de la început. Trebuie să plece de jos, să se dezvolte, să piardă, să fie doborât (preferabil în mod injust), să se ridice şi să revină învingător la finalul poveștii (iar toate acestea trebuie să se întâmple în văzul lumii). E o rețetă consacrată de formare a mitului. Bineînțeles, e falsă impresia că Mayweather a avut totul pe tavă. Şi-a pus pe mâini mănușile de box înainte de a împlini 5 ani, şi le-a dat jos la 40. Asta înseamnă 35 de ani de muncă şi de concentrare, eforturi şi privațiuni, iar situația sa n-a fost întotdeauna prea roz – pornind mai degrabă din sărăcie, într-o familie degenerată: în adolescență era martor cum tatăl său îi vindea droguri mamei sale. Nu numai că nu s-a apucat de vânzare şi consum de droguri, așa cum multe persoane din jurul său făceau, ci a continuat să rămână foarte concentrat pe ce avea de făcut, cu o maturitate impresionantă pentru un copil/adolescent, începând să se întrețină singur şi să-şi ajute familia încă de la vârsta pubertății. Nici după ce a început să facă bani frumoși din box nu şi-a pierdut concentrarea, iar determinarea, pofta de muncă şi dorința de reușită şi le-a păstrat chiar şi când a ajuns să câștige zeci şi chiar sute de milioane de dolari de pe urma unui singur meci. Palmaresul şi dominația sa îndelungată sunt fără precedent. Nu numai că nu a fost vreodată pus la podea şi numărat în lunga sa carieră (se poate întâmpla şi fără să fii lovit cu cine știe ce lovitură, knockdownul poate veni şi ca urmare a unei poziționări nefericite sau a unei dezechilibrări când ești atins), însă nu prea poți găsi vreo rundă pe care s-o fi pierdut extrem de clar, să zici că a avut mare noroc că s-a încheiat runda respectivă. Lumea face topuri cu momente din timpul carierei sale când a fost zdruncinat. Iar în față i-au fost aliniate nenumărate legende ale boxului din generația sa, pe care le-a învins fără drept de apel.
Acestea fiind zise, nici nu se pune problema că locul lui n-ar fi în loja lui Ali, e chiar unul dintre cei mai însemnați membri.
În încheiere:  link video